Camp Director – Andrew Dreger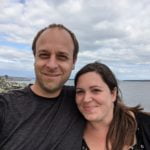 My wife Sarah and I are the proud parents of 4 boys who keep us busy, humble and smiling…Most of the time! It was so exciting to have them attend LPC as campers for the first time in 2021!
I have served at Lone Prairie Camp every year since 2002 in a wide variety of roles including CLT, Support Staff, Maintenance, Cabin Leader, Boat Driver, "Special Projects" and Program Director. Throughout all my other commitments, the ministry of Lone Prairie Camp has captured my being again and again. I accepted the role of Camp Director in 2012 and consider it a huge honour to serve in this position.
I have been actively involved at Ellerslie Road Baptist Church since High School and have assisted in various capacities including youth sponsoring, teaching Sunday School and ushering.  Between my first and second years of university, I had the privilege of serving street children with ACTION Zambia and ACTION Uganda and then graduated from the University of Alberta in 2010 with a Bachelor in Engineering Physics. Since then, I have completed of my Masters of Divinity degree through The Canadian Baptist Seminary (CBS, part of ACTS) and continue to pursue formal education.